The Employee Gift Shop is where you can buy other game modes, playable characters, and special features, using your star points. For your convenience, the shop will not let you buy anything that would mean you would get stuck, not being able to earn more star points to spend. The items for sale are arranged as follows: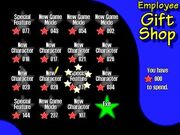 Level Editor
Special Feature
77
Inventory Clearance
New Game Mode
43
Summer Blowout
New Game Mode
54
Pest Control
New Game Mode
92
War Pig
New Character
18
Goth Girl
New Character
17
Chunky Cherub
New Character
21
Ro-Bot Machine
New Character
26
Saint Nicky
New Character
23
Shooper Shroom
New Character
28
Month of Smarch
Special Feature
78
Freako McFreak
New Character
34
Music Composer
Special Feature
144
Alternate Stockroom
New Game Mode
237
Happy Stick Boy
New Character
107
Exit
Ad blocker interference detected!
Wikia is a free-to-use site that makes money from advertising. We have a modified experience for viewers using ad blockers

Wikia is not accessible if you've made further modifications. Remove the custom ad blocker rule(s) and the page will load as expected.