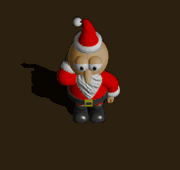 Dr. Lunatic Monster
Dr. Lunatic
Name:
Santa Claus
HP:
100
Scan Text:
I racked my brains for a very long time to come up with a secret enemy for the Icy Mountain. I don't know why on earth it took so long to come up with the obvious. The voices turned out very stupid... He's supposed to sound really angry, as if he's punctuating each smack of you with an angry "HO!". One thing about the voices though, I thought it would be cute if the only word he used was "Ho" and he does. When he hits you, when he gets hurt... does it do it when he dies? I don't recall!
Category:
Badguy/Wacky/Arctic/Human
Recolored?:
None
Miscellaneous Info:
None
Ad blocker interference detected!
Wikia is a free-to-use site that makes money from advertising. We have a modified experience for viewers using ad blockers

Wikia is not accessible if you've made further modifications. Remove the custom ad blocker rule(s) and the page will load as expected.